Bangalore University Info, Facts, Gmaps | Google Satellite Maps
---
Facts about Bangalore University
* Campus



* Mark Johnson Addresses the Spectators


* Images courtesy Flickr.com and its vibrant members

Bangalore University campus marked for area measurement with gmaps area calculator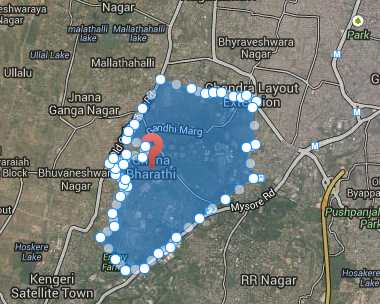 *Motto: Jnaanam, Vijanana Sahitam
* Established: 1886
* Vice-Chancellor: B Thimme Gowda
* Location: Jnana Bharathi, Bangalore, Karnataka, India
* Campus Area: 1,100 acres
* Affiliations: UGC, NAAC, AIU
* Website: www.bangaloreuniversity.ac.in
* one of the oldest university in India
* affiliated by University Grants Commission (UGC)
* produces the largest number of Ph.Ds in India
* is the largest University in India
* has two campuses: Jnana Bharathi Campus and City Campus: Central College
* Total affiliate colleges: more than 650 affiliated colleges
* NAAC Accreditation : NAAC with Five Star Status, under the new grading system with a grade A
* Has PG seat reservations for transgenders
* Nobel Laureate connections : Sir C.V.Raman was associated with the University while working at the Indian Institute of Science. Professor Leonid Hurwicz who won Nobel Prize in Economics in 2007 was Professor of Economics at Bangalore University from 1965-1968.
* Libraries : one is located in the JB Campus and another at City Campus,Has 3.25 lakhs books, 172 Journals, (national-110, international- 62), 68 magazines are subscribed. The library also provides reprographic facility, computers, audio, video cassette, internet and INFLIBNET ProgrammeE and inter university loan facilities.
* publications : Prasaranga is a publication unit of the University and is located at J.B. Campus, The students of the communication department bring out a news journal regularly
* Health care : There is a Health Care Centre at J.B. Campus which is manned by two resident doctors.Also there is a gymnasium with facilities for indoor games, basketball Courts, Kho Kho ground and swimming pool.
* Hostel Facility: There are seven hostels on the J.B. Campus and three on the City campus. There are two men's hostels at Tumkur and Kolar and one Ladies hostels at Kolar. Hostel canteens are managed by student prefects.
* Faculties : Arts, Science, Commerce & Management, Education, Law and Engineering. It has 43 Post Graduate Departments, the University offers 50 Post Graduate Courses and Employment Oriented Diploma and Certificate Courses.
*Integrated Courses : 5 years in Biological Sciences, Social Sciences, Earth and Atmospheric Sciences and Business Studies and the Four years B.S. Programme.
Images of bangalore university
Youtube videos of bangalore university
GMaps Bangalore University | Google Satellite Map of Bangalore University


Kannada Typing (ಕನ್ನಡ ಟೈಪಿಂಗ್ ಉಪಕರಣಗಳು)

Visit - Free Kannada Typing Tools (ಉಚಿತ ಆನ್ಲೈನ್ ಕನ್ನಡ ಟೈಪಿಂಗ್)