You are hereAmazing 3D Street Arts
Amazing 3D Street Arts
---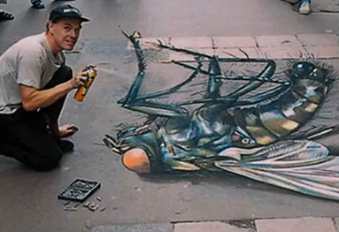 3D Street Artists are amazing people with their wonderful imagination and drawing skills, read more to see some youtube videos of 3d street arts.
largest 3D street art ever


مذهلة 3D شارع الفنون | Úžasné 3D Street umění | Forbløffende 3D Street Arts | Erstaunliche 3D Street Arts | Hämmastav 3D Street Arts | Hämmästyttävä 3D Street Arts | Verbazingwekkend 3D Street Arts | Καταπληκτικό το 3D Street τέχνες | מדהים 3D רחוב האמנויות | अद्भुत 3 डी सड़क कला | Elképesztő 3D utcai művészetek | Menakjubkan 3D Street seni | Stupefacente 3D Street Arts | 驚くほどの 3 D ストリート アート | 놀라운 3 차원 거리 예술 | Nuostabi 3D gatvės meno | Amazing 3D ielu māksla | Utrolig 3D Street Arts | Zdumiewający 3D Street sztuki | Amazing 3D Street artes | Amazing 3D strada artelor | Amazing 3D Street Arts | Удивительные 3D Улица искусства | Amazing 3D Street Arts | Otrolig 3D Street Arts | วิเศษ 3D Street Arts | 3d sokak sanatları şaşırtıcı | Amazing 3D вуличного мистецтва | Tuyệt vời 3D Street nghệ thuật | 惊人的 3D 街艺术 | 驚人的 3D 街藝術

The Crevasse - Making of 3D Street Art


www.metanamorph.com In Dun Laoghaire the "Festival of World Culture" took place from 21. to 24. of August 2008. Edgar Müller has followed the invitation and continued his series of large-sized 3D Street Art there. For this year's Festival of World Cultures renowned German street painting artist Edgar Müller transformed a huge slice of the East Pier into a dramatic ice age scene. This project was supported by the Goethe Institution Germany.


Street Art: Joshua Allen Harris' Inflatable Bag Monsters


Call us boring and simple-minded, but before we saw the work of street artist Joshua Allen Harris we never once considered the artistic possibilities of subway exhaust. Using only tape and garbage bags, Harris creates giant inflatable animals that become animated when fastened to a sidewalk grate. Steven Psyllos caught up with Harris recently to discuss his older works (including a bear and a giraffe) and unveil a new beast that looks not unlike the Cloverfield monster. Video by Jonah Green




interactive street art


illusion of art festival in hong kong 2006 www.3d-street-art.com http www.manfredstader.de



Tracy Lee Stum -3D Street Painting


www.tracyleestum.com Guinness World Record holding street painter Tracy Lee Stum; fantastic original 3D anamorphic and interactive chalk art; street paintings from around the world.



3D Street Art With Julian Beever


The most fantastic street art ever, Julian Beever Painting 3-dimensional pictures. This is breath taking, you must see this, how is it possible, watch and learn. Note, I do NOT own this pictures and I'm certainly not Julian Beever. Please Leave a comment about what you think, and subscribe to me if you liked this!


Amazing Artist


Wow! 700.000+ Views!! Big thanks to all you people for checking out my video! Also check out my website at www.andywillekens.nl Please chare and subscribe! -------------------------------------------------------------------------------------------------------------- You realy got to see this guy's art! he draws 3D pictures on the floor in the middle of citys with pencils! It just looks so real the last one is the best.. i didnt believed it myself.. but hey just watch it.



3D street art is new form of street painting but in a mass scale with advanced painting materials and 3D finishing. Street painting, also commonly known as pavement art, street art, and sidewalk art are art work creation of original or non-original designs by sidewalk artists artistically created with chalks, white washs, paints, spray paints or even plant leaves on pavements such as streets, sidewalks, and town squares. Some good artists make even with chalk illusions which can amaze passing through people. Nowadays use transparent and non transparent materials to create stunning effects as seen in the above videos.
Some pavement artist had created sidewalk painting illusions like block of bricks removed on the pavment which make street walkers to stop or change their course of path. Depending on the theme and quality of design and painting, often street art illusions attract massive public attention. Among them some sidewalk artist are concentrating on creation of 3d graffiti street art.
3D street arts also called side walk art 3d, 3d Street art, 3 d street art , sidewalk 3d art if painted with chalk 3d chalk drawings/chalk art 3D/3D chalk art/chalk 3D street art make use of advanced painting materials to create 3D effects to this sidewalk and street arts. One 3D Street artist worth mentioning is Edgar mueller who is one of the world's top 3-D illusionist 3D street artist and is one of the best known street painters in the world thanks to his YouTube videos. Edgar Muller often transliterated Mueller, created a 100' x 40' 3-D street painting that is the first known contemporary street painting that metamorphosed from one image to another with the change from day to night because the painter used photoluminescent paints. At the Sarasota Chalk Festival, the featured artist, Vera Bugatti, and Edgar Müller, created a 3-D illusion street art painting that made history as well. For the first time in history a street painting was designed to metamorphose, the image changing from day to night from a giant into a fetus in the uterus, through the use of photoluminescent paints. It measured '100' x 40'.
There are art festivals to promote 3D street art like Sarasota Chalk Festival which is the first recorded street-painting competition & 'festival' and was held in London in 1906. Largest street painting events in the United States is the Lake Worth Street Painting Festival, held in Lake Worth Florida.
Started in 2002, The Denver Chalk Art Festival on Larimer Square, located in Downtown Denver, is a free two-day street-painting festival.More than 200 artists spend hours during the weekend turning the streets of Larimer Square, into a museum of chalk art. The Festival is produced by the Larimer Arts Association, a nonprofit organization dedicated to promoting arts awareness and education in Denver. the First International Street Painting Festival in the United States was organized by Denise Kowal, President of the Avenida de Colores, Inc. 501(c) nonprofit corporation that produced the Sarasota Chalk Festival.